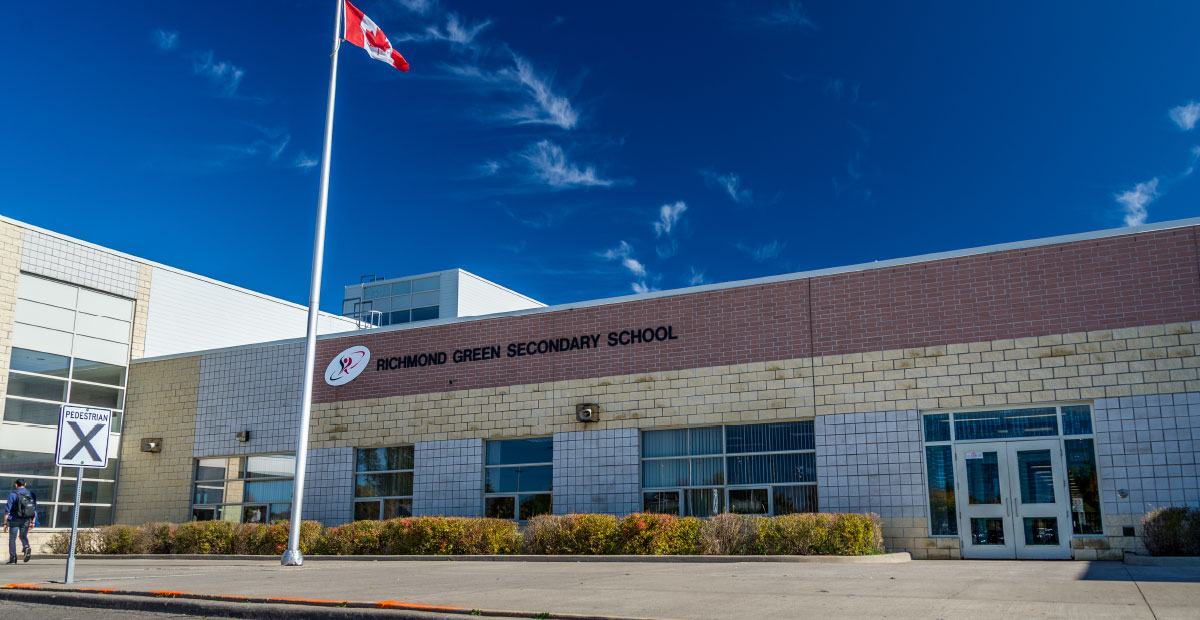 Enrich your family's future with these A+ Educational Institutions
For families, education is always a top priority. At Richlands, your family can enjoy access to a great selection of schools within easy walking distance. Whether you're interested in public, Catholic, Montessori or private, we're lucky to have some truly exceptional institutions in this neighbourhood — not to mention an all new elementary school proposed right in the Richlands community. Discover your many great options in the post below.
Richmond Green Secondary
1 William F. Bell Pkwy
Your high school aged kids can get an amazing education right across the street from Richlands at Richmond Green Secondary. Opened in 2005, Richmond Green offers: an excellent accelerated apprenticeship program; a co-op program for high performance athletes competing at the provincial, national, or international levels; a special high skills major program that allows students to focus on a specific economic sector to accelerate their transition to college, apprenticeships, university or the workplace; and more.
Click here to learn more about Richmond Green Secondary School
York Montessori School
10533 Leslie St.
Founded in 2007, York Montessori School accommodates children aged 16 months to 6 years in a small, welcoming setting. With a capacity of just 110 students for the entire school, you can be sure that your children will get the attention they need here. The curriculum is based on the Montessori principles that children learn and develop in their own way — and they encourage children to work towards independence and self-motivation within this traditional Montessori framework.
Click here to learn more
Jean Vanier CHS
10475 Bayview Ave., Richmond Hill
Jean Vanier Catholic High School offers an excellent education to those looking to enroll their kids in a Catholic high school setting. Perhaps most impressive is their Advanced Placement (AP) Program, which enables students to pursue university-level studies in their final year of high school. If they perform well in their AP courses, they're able to earn first year university credit for their course work — which can save lots of time and money when they're accepted to university the following year!
Click here to learn more
Bayview Secondary School
10077 Bayview Ave.
Bayview Secondary School is widely regarded as one of the finest schools in the province. In fact, the Fraser Institute ranked the school 16th in Ontario in 2015. This is no doubt in large part due to the fact that they offer the prestigious International Baccalaureate Program — an esteemed program that helps students get into some of Canada and the U.S.'s most elite colleges and universities.
Click here to learn more
Richland Academy
11570 Yonge St.
Voted the #1 Private school in Richmond Hill, Richland Academy offers world-class education to children from toddlers to grade 8. Offering excellent student-to-teacher ratios, this prestigious Academy boasts an outstanding science and technology program and a top-rated athletics department. Also available here is the International Baccalaureate Program which will surely help groom your children for higher learning.
Click here to learn more
Our Lady Help of Christians Catholic Elementary School
275 Redstone Rd.
Located just a 5 minute drive south of Richlands is Our Lady Help of Christians Catholic Elementary School. Serving kids from JK-Grade 8, Our Lady Help can provide your kids with a great education in a supportive Catholic School setting.
Click here to learn more